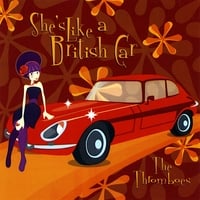 I think it's great that The Thromboes are the subject of my 1500th post. They are a perfect example of what this blog has always strived for – interesting music that is easy to listen to over and over with a sense of satisfaction that the world of music is intensely varied.
"Don't get into my head, girl, there's no space for you there. Don't have time for your pain." Typical macho song, but worth a close look. The narrator is letting on that there's something going on inside himself that is keeping him from opening up. The next verse says, "Don't move into my heart, girl. Keep your blues to yourself." There's a hint that it's possible for this movement into his head and heart is possible; but something's making him beg for that not to happen. So, can we still say 'typical macho'? Not really. The guy is opening up and admitting he has stuff inside him too.
But what about the music? Ah, pure bliss. Garage punk style guitars and drums, with the vocals sounding as if they are recorded at the same time as the rest of the noise – garage punk. Live as you can get on record. Shoutout for the hilarious Rock And Roll Rant ("look me in the eyes and tell me I can't").
The Thromboes